Agile is defined as the ability to move quickly and easily. Moving this concept into software development, Agile is the capacity to coordinate the project in order to increase the Return of Investment (ROI).
What really matters in an Agile project? The Agile methodology is comparable to a set of "dance steps" that are helping the team to deliver a working software. This is what the Agile Manifesto says:
Individuals and interactions over processes and tools

Working software over comprehensive documentation

Customer collaboration over contract negotiation

Responding to change over following a plan
Agile embraces changes based on frequent customer involvement, emphasising on the creation of a software deliverable by a small cross-functional team.
First of all, we have to understand that the corporate culture is tough to change. If a company is profitable enough and is running well without the use of Agile methodologies, why should we change the process? There are several steps to follow that will help you to change processes in the organisation:
Sense of urgency
When market is evolving and competitors are catching up fast, it's time for you to change faster. Define and create a bunch of evidences and be able to communicate them. The important point is to create an urgency around why the change is needed.
Vision of change
Establish a vision by asking how it will look like and what they want to achieve once they've gone through this change process. This will help to come up with the vision and create the strategy for achieving change.
Communicate the vision
Evangelize the vision out by building exactly the required software without the waste.
Create short-term wins
Reinforce that you're actually achieving something. Remember that winning motivates people towards new wins, which makes the process go even better.
Consolidate wins
Keep going, keep pushing and recognize the team that made the improvements by supporting the effort they made to make it possible and reinforce good behaviours they are doing.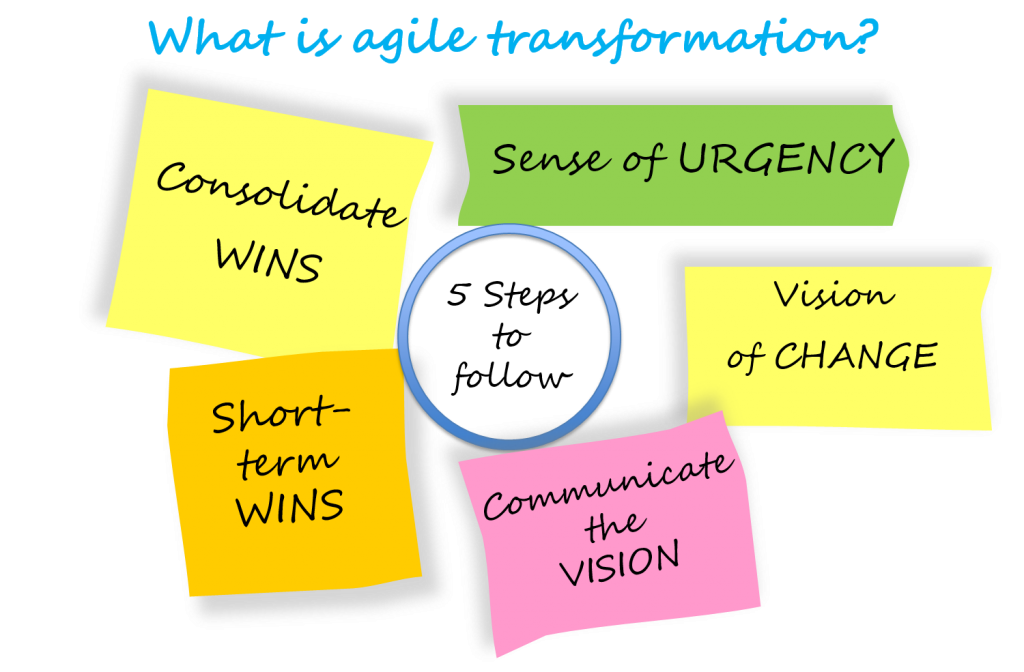 Contribution from José Manuel LOPEZ ALPANEZ.